Whether you have see the sign in our Burleigh Heads cafe or have glanced at the subscriptions while scrolling through our online store, you may be wondering why you would pay for a coffee subscription.
Why subscribe instead of just ordering when you need coffee?
You don't have to remember to order each month;
Coffee is delivered on time, every time;
Order for yourself or as a gift for someone special;
You won't run out of coffee again; and
Save time and money (we only charge shipping for your first delivery)
How do you set up the subscription?
We have 2 easy options for you to choose from:
1kg bag of coffee delivered fortnightly or monthly for 3 months
500g bag of coffee delivered monthly for 3 months
You just need to decide the subscription you would like; then ordering is simple. Sometimes the hardest decision is which single origin or blend you would like.
Some people have a favourite bean, while others enjoy a little variety. For those of you who like to change it up a bit, you may be interested in the Roaster's Choice option. This gives you the element of surprise, allowing our master roaster to select a different bean for you at each delivery.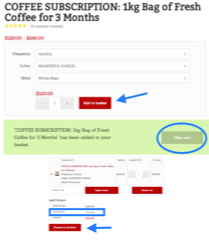 Ordering is simple:
1. Select the Frequency (monthly/fortnightly) you would like your beans delivered, your bean of choice (or Roaster's Choice) and which grind you prefer then 'Add to basket';
2. 'View Basket';
3. Make sure the order details are correct. You will see that the shipping is 'Free' if you are just ordering a coffee subscription only. Then 'Proceed to Checkout'.
4. Enter your Billing Details, ensuring that you make comments in the 'Order Notes' for any specific delivery instructions. If the coffee subscription is a gift for somebody and you would like it shipped to a different address, be sure to tick the box and enter those details, together with any special notes that you would like us to add on your behalf. If you order *Roaster's Choice* and prefer only a mild flavoured coffee, you can add this preference in here also so we can choose beans more to your liking.
If you have not created an account, this is very easy to do. Simply select the 'Create an account?' box and enter your desired password in the field provided. This will allow you to log in each time you order instead of re-entering your details.
5. Select your payment option of either direct deposit, cheque or PayPal and then select 'Place Order'.
All you have to do now is leave the rest up to us!
Here's a review from one of our happy customers: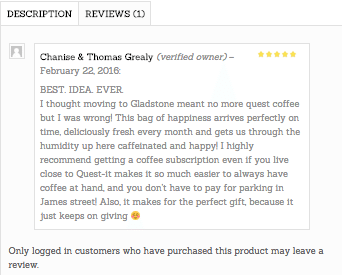 A simple, cost effective and splendid way to receive your coffee on time, every time.
The only question left to ask is…WHICH SUBSCRIPTION AND BLEND OF COFFEE WILL YOU CHOOSE?
Follow this link to order now!