The Quest Coffee Master's guide to home brewing the perfect espresso, with everything you need to know about equipment, cost, beans, and full instructions on how to prepare and brew.
Introduction
You have your espresso machine? Great, let's get started! Enjoying barista-style coffee in the comfort of your own home doesn't have to cost you hundreds of dollars, it's actually quite affordable. Below, we'll take you through everything you need to know about homebrewing using your espresso machine. With tips, tricks and knowledge directly from the baristas at our Quest Burleigh Cafe, through to our roasting team with over 10 years experience in the coffee industry. This read is your ultimate guide to homebrewing espresso – from how much coffee you need to how long you should pour for, the materials needed and how much it costs, let's get started.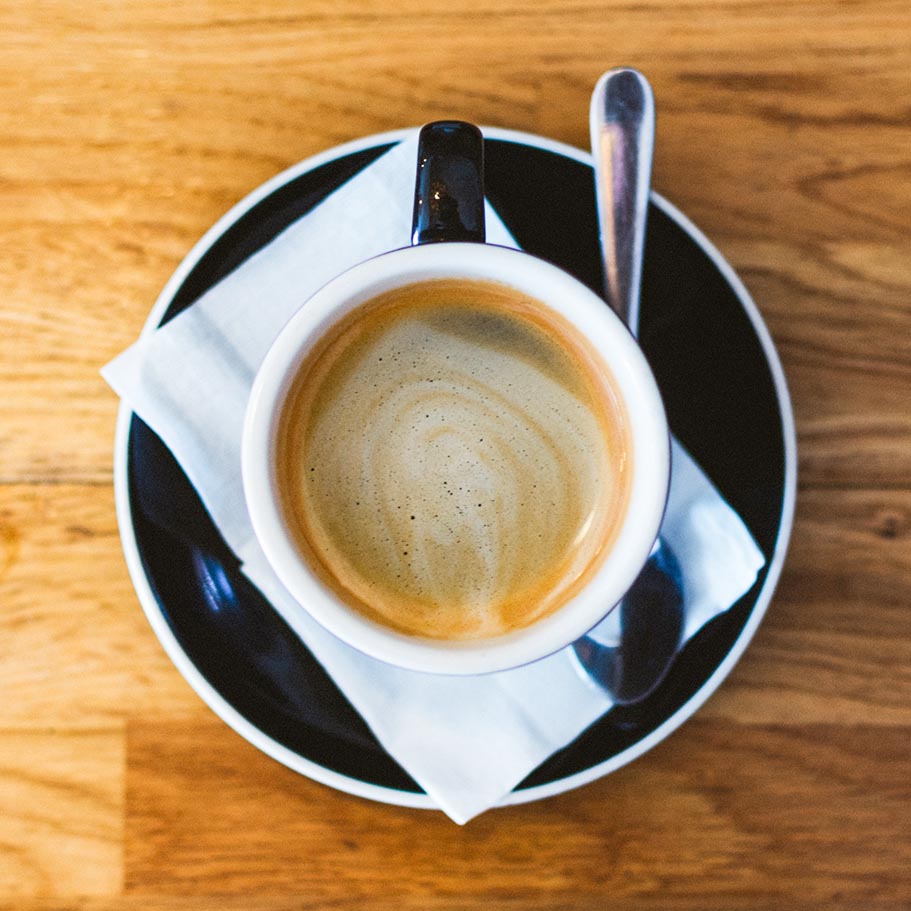 What kind of coffee does an espresso make?
An espresso makes espresso style coffee (as the name would imply) which has a rich, full-bodied flavour that is strong in taste. We enjoy espresso because it's pleasant to sip with a nice crema that is produced by the extraction process. Espresso is a metal-filtered coffee and as a result some coffee solids and sediment gets left in the coffee. This is part of the experience of consuming espresso coffee, compared to other styles of brewing methods.
What equipment do I need from home brewing espresso and how much will it cost?
Brewing espresso at home starts from $200 and can go up to $4,000 for a fancier, more thorough setup. We've included the essentials you will need to brew espresso, along with some optional items.
Essential Equipment
Name
Price
Buy from Quest or a recommended supplier
Notes
Single grouphead espresso machine with portafilter and basket
$200 – $4000+

At Quest Burleigh Cafe, we use a La Marzocco machine. Popular machines among Quest customers include DeLonghi La Specialista Pump Espresso Maker, and Breville Barista Express Manual Coffee Machine.

There are plenty of options to choose from. You can read 17 of the best coffee machines for your home by 'Homes to Love' for more ideas.
– Machines from Alternative Brewing
– Machines from Kitchen Warehouse
– Machines from Barista Warehouse

For wholesale equipment inquiries, use our wholesale contact form.
A single grouphead espresso machine is a great starting point for home brewers. It can pour up to two full shots at a single time, and requires less cleaning than machines used in cafes.

A portafilter is needed for extracting the coffee while the basket that inserts into the portafilter holds ground coffee beans.
Coffee tamper
$14.95 – $50
– Tampers from Alternative Brewing
– Tampers from Kitchen Warehouse
– Tampers from Barista Warehouse
Using a coffee tamper helps to pack the ground coffee into the basket, allowing for an even shot of coffee to be extracted. Some espresso machines include a coffee tamper.
Tea spoon
varies
Use your tea spoon to transfer ground coffee into the portafilter.
Compost Bin
varies
Used coffee grinds are an excellent source of compost material.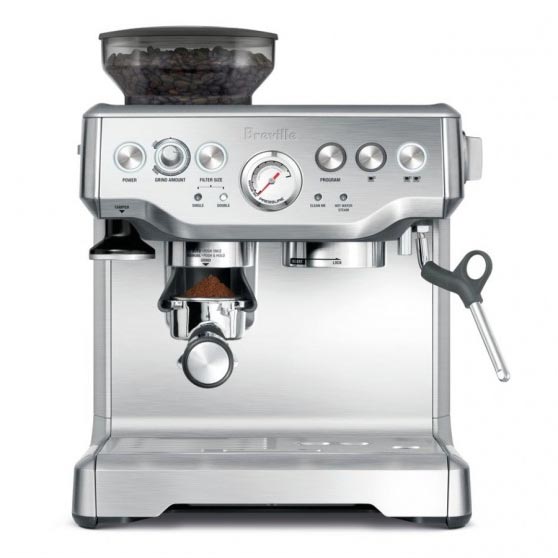 Optional Equipment
Name
Price
Buy from Quest or a recommended supplier
Notes
Coffee grinder
$30 – $500+
– Grinders from Alternative Brewing
– Grinders from Kitchen Warehouse
– Grinders from Barista Warehouse


Ranging in price, you can use hand or electric grinders, depending on your budget. If you don't have a grinder, you can order ground coffee. At Quest, we sell and deliver your coffee ground fresh.
Dosing scale (0.1 gram accuracy)
$20 – $200+
– Scales from Alternative Brewing
– Scales from Kitchen Warehouse
– Scales from Barista Warehouse
Measuring out ground coffee using dosing scales will help you to extract the ideal amount of coffee in liquid (more on this later).
Clean, damp rag
n/a
To remove used ground coffee beans leftover in the basket .
Milk thermometer
$12 – $30
– Thermometers from Quest
– Thermometers from Alternative Brewing
– Thermometers from Kitchen Warehouse
– Thermometers from Barista Warehouse


Using a thermometer will help you to avoid under-heating or overheating the milk.
Machine cleaner
$10 – $35
– Machine Cleaner from Quest
– Machine cleaner from Alternative Brewing
– Machine cleaner from Barista Warehouse
Machine cleaner will help to descale and clear any residue that may be built up over time in using your coffee machine.
Milk Frother or Milk Steaming Jug
$15 – $100+
– Milk Frothers from Quest
– Milk Frothers from Alternative Brewing
– Milk Jugs from Alternative Brewing
– Milk Jugs from Kitchen Warehouse
– Milk Jugs from Barista Warehouse
For silky smooth and or frothy milk.
If your espresso machine has a milk steaming attachment, you will need a jug.
If your espresso machine doesn't have a milk steaming attachment, you have options:
– automatic milk frothers like the Bialetti Tuttocrema Milk Frother, and
– manual milk frothers.
Filtered water
$15 – $50
– Water Filters from Big W
– Water Filters from Kmart
For the best tasting coffee, use either a portable or installed water filtration system. Water filtration systems reduce lead, chlorine, asbestos, benzene, particulates and other trace contaminants that may be found in tap water.
Coffee mug
Varies
For your final delicious product 👌
How difficult is it to make espresso?
Difficulty: 5 / 5
Home brewing espresso is relatively straight forward, once you've got the hang of it, but it may take you some time to get comfortable with each of the tools, their maintenance, and bringing it all together to make the perfect espresso. Once mastered, you'll have a skill that is the cornerstone of the cafe industry across the world, and will be a treat for friends and family that come over to visit.

How long will it take to brew?
For first time home brewers, the initial setup can take a little longer, but the brewing time is quick. Don't think that brewing will always consume this amount of time; time spent may reduce after completing the process a few times.
Setup: 5-30 minutes depending on if you are grinding your own beans, and experience level.
Brewing: 2-5 minutes
What coffee should I use?
It only depends on your preference. When the grind setting is calibrated correctly, you can use from the full range of light, medium or dark roasted coffee beans. Using a lighter roast of beans will generally have more fruity, acidic and bright tasting notes. A darker roasted bean will have more chocolate and spice with less acidic tasting notes.
Quest Coffee Roasters offers a variety of roasts from light to dark on our online store for purchase and home delivery. You can also order beans pre ground or whole bean.
---
Setup – Home Brewing Espresso
Prepare your grinder: Fine-tune your grinder setting before making your cup of coffee.
Hint: Depending on your espresso machine, we recommend asking our master roaster, Paul, the ideal grind setting for your chosen roast. See what grind setting should I use
Before brewing, make sure you allow enough time for your machine to warm up, or alternatively, leave your machine on so you're not waiting around and you're ready to go. The entire brewing process of extracting the espresso and frothing the milk should only take about 5 minutes.
Hint: Packing down/cleaning your machine means you'll be saving money on maintenance in the long-term, especially if you have an expensive machine.
Ensure you have water (filtered is optional) in your coffee machine before turning on your espresso machine and get your materials in order. Place your coffee tamper, portafilter and basket close to your coffee machine.
Grind your coffee. Using your dosing scale, measure out whole coffee beans, and grind on a fine consistency in your grinder. If you don't have a grinder and your coffee is already ground, measure out ground coffee to fill your basket.
Hint: Understanding your machine and the tools used will help you dose each shot ensuring the best extraction possible.
---
Method – Home Brewing Espresso
Now that you are set up, let's get started.
Using your teaspoon, place ground coffee into the warm basket, and using your coffee tamper, press down to flatten the coffee. If using a dark roast, aim for 20g of coffee to go into the basket. If using a lighter roast, aim for 21g of coffee to go into the basket.
Before locking your portafilter into the machine, run hot water through the grouphead for at least a few seconds. This will ensure there isn't any residual coffee or unwanted material during the extraction process.
Lock the portafilter into the grouphead of your machine and extract 45g-46g of liquid espresso using the corresponding button. The process should take between 26-31 seconds. If using a dark roast, aim to extract 45g of liquid (espresso). If using a lighter roast, aim to extract 46g of liquid.
[ optional ] If combining your espresso with milk

Milk Steaming Attachment – use your milk pitcher to measure out a cup of milk and heat using the steaming function. Using your thermometer, heat the milk to a minimum of 50 degrees and a maximum of 70'C.
Separate Milk Frother – follow instructions for your milk frothing gadget.

All done!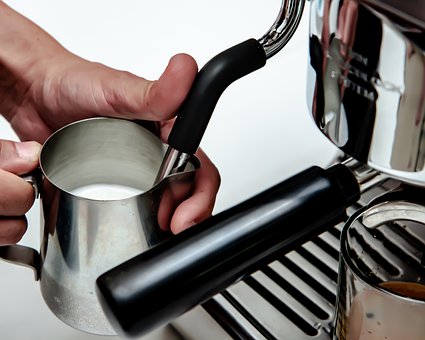 Serving
Serve the espresso in your favourite coffee mug.
---
Appendix
What grind setting should I use to make espresso?
The grind setting can depend on multiple variables; the roast level of the bean, pressure output of an espresso machine, and how much coffee you measure into the filter. At Quest, for espresso, we have ground coffee for espresso anywhere from a #1 (the most fine) to a #2.5 (more coarse). If using a professional espresso machine, these can handle more fine grind settings (because of the high pressures that can be built up), whereas more domestic machines (at lower pressures) have slightly more coarse settings.
Hint: If ordering from our store or online, we'll make sure we write the grind settings on your coffee bag so when you order your next batch, you can recite the same setting (if it worked) or adjust the setting if needed. If ordering online, just mention the grind setting in the notes of your order. i.e "can I get 500g of Guatemala ground on a number 3.5?"