WHOLE BEANS v PRE-GROUND COFFEE BEANS
We often get asked the question "Why should you grind as you go?"
Coffee, like most things, tastes best when it is fresh. Buying your coffee beans whole and only grinding as you go will always produce a consistently good flavour, as opposed to your pre-ground beans.
A good quality grinder is essential and would get used more, in most homes, than many kitchen appliances. Your coffee is best ground medium, unless you are making espresso or aeropress (see below for more info on the optimal grind size for your particular brewing method). The powdered coffee that builds up around the side of your grinder will only clog your filter, not to mention the bitter taste that comes with it. Blade grinders produce a lot of powder.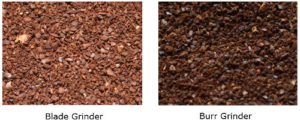 We recommend using burr grinders like our Rhinowares Hand Coffee Grinder or Hario Mini Mill Coffee Grinder.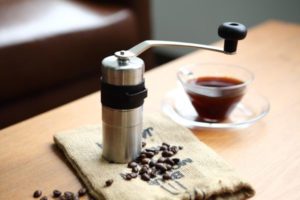 The primary goal of making coffee is that we extract the delicious flavour components and oils that are inside the bean. When grinding the coffee beans, you help the water to efficiently extract the solubles that are responsible for the taste and aroma we have come to love.
A whole roasted coffee bean is a striking, protective package that keeps the oils where they should be; inside the bean. If the protective shell is broken, the flavour components are disrupted.
Here are 4 reasons why you should NOT buy pre-ground coffee:
1. Contamination
The oils are very delicate and this allows the coffee to be contaminated easily. Odours around ground coffee will fault the bean in a way that it will not contribute positively to your coffee tasting experience.
2. Moisture
Coffee oils are water-soluble. The moisture in the air will immediately start to dilute the oils once the ground coffee is exposed to it.
3. Oxygen
Inside the cell of the roasted coffee bean are approximately 1,000 different volatile aromas and flavours. Once they are released, they oxidate (react with the oxygen in the air). It only takes around 15 minutes for ground coffee to lose more than 50% of its aroma.
4. Carbon Dioxide (CO2)
CO2 is created during the roasting process. Some of it is lost during the cooling process, as the bean is porous. Much of the CO2 is retained in the cells of the bean. CO2 is the main method for getting the essential oils into the coffee once they are released.
The increased surface area created after grinding allows for more CO2 gas to be released. 80% of this gas is released into the air within 1 minute of grinding.
So in short, your coffee should be ground fresh just prior to brewing. This will bring you even closer to coffee utopia, a place we all love to be at the start of our busy day.
What is the best way to grind your coffee?
There are many benefits to grinding as you go. You will be able to calibrate the grind perfectly, depending on your preferred brewing method (the size of your grind should always match the brewing method you will be using). The duration of time that water and coffee needs to be in contact directly relates to the particle size of the grind.
We recommend you use these grinds for the following brewing methods:
Fine grind
Turkish / Espresso Machine
Medium-Fine grind
Pour Over Coffee Maker / Stainless Steel and Aluminium Stovetop / Aeropress
Medium grind
 Plunger (French Press) / Toddy (Cold Press)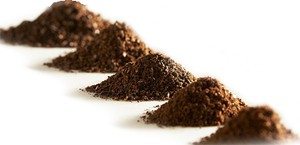 Storing your Coffee:
We find that the best way to store your coffee is in a coffee storage canister which has a valve that allows the gases to escape, while keeping the oxygen out. Ground beans will go stale within 3-4 days, whereas whole beans will stay fresh for about 3-4 weeks.
Ever wondered why instant coffee has little to no flavour?
If coffee is packaged in an airtight container that has no de-gassing valve before it is allowed to go stale, it would explode.
We hope that this information helps you when next purchasing your beans. Don't forget to share our post with your friends so they are well informed now too.
Blog written by Therese Glowaski.