… and why we think Arabica Coffee (preferably Organic) is always the way to go if you want a super tasty coffee.
Time to learn something new about your beloved hot and cold beverage. You probably say coffee all looks a bit the same once it is roasted and it is pretty hard to see the actual difference but there are some significant ones and it's helpful to know what they are when you are choosing a coffee.
Did you know there are over 100 different coffee species in the world? That said we only use 2 in commercial coffee production; the Arabica (Coffea arabica) and the Robusta (Coffea robusta).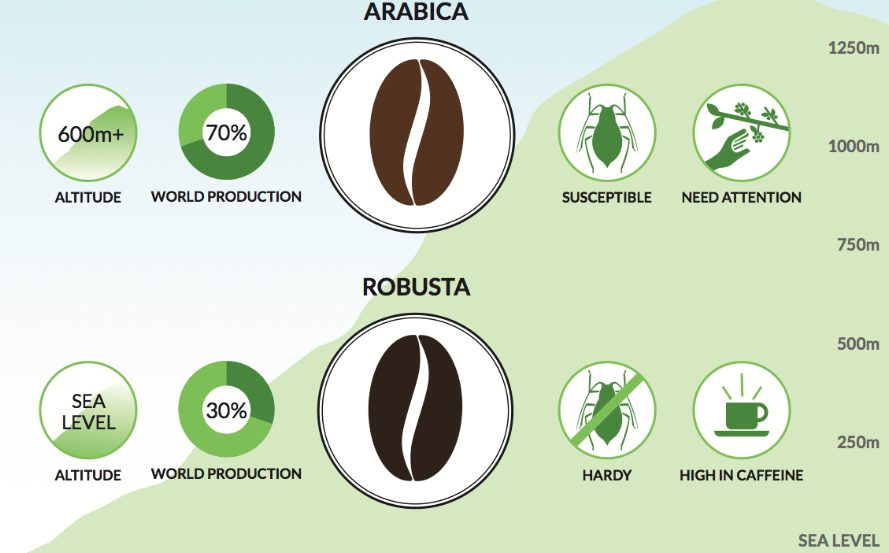 Here are the 6 main differences between the two mighty beans:
Robusta beans have a much higher level of caffeine than Arabica beans, yes it's almost double the amount.
Arabica beans have a milder, more aromatic taste while Robusta beans have a stronger, harsher taste, with a grain-like overtone and peanutty aftertaste.
When the coffee beans are un-roasted (green), the beans can easily be told apart by their difference in colour and shape as Arabica beans are a darker shade of green, flat and elongated, the Robusta beans have a more obvious round shape.
Robusta is easier to grow on the farm, has a higher yield and is less sensitive to insects – the high caffeine level is a chemical defense for the coffee bean as this amount in the Robusta is toxic to bugs. Arabica coffee is also grown at a higher altitude (600 – 2000 meters) and in cooler sub-tropical climates while Robusta can be grown at sea level.
Over 70% of the coffee grown around the world is Arabica. And although Arabica is generally known as the higher quality bean, there are many high quality blends of Robusta available on the market too.
So you want to know what we use at Quest?
We only use the best Organic, Fair Trade or Rainforest Alliance Arabica coffee beans available and roast them fresh for you daily. You can find them all here in the shop and we will make sure they will be on there way to you within 24 hours, or come in and say hi at our cafe on the beautiful Gold Coast; we are Burleigh Heads (20 James Street) and have a chat to our friendly baristas.