Description
Bialetti Stainless Steel Stovetop (or Venus Moka Pot) is a beautiful coffee maker that makes a balanced and rich Italian espresso style coffee in just 4 to 5 minutes.
The pot is made from high quality 18/10 stainless steel (including all internal parts).
Bialetti Stainless Steel Stovetop Features
Tasty Stovetop Espresso – brews balanced and rich Italian style espresso that can be enjoyed without or without milk.
Quick and Simple – add water, add coffee, and heat for 4 to 5 minutes.
Made from stainless streel for durability – made to last, and east to clean. Note: dishwasher, wire, or rough brush clean not recommended.
Induction Stove Compatible – works will all stove types including induction stove tops (2 Cup model excluded).
Ergonomic Handle – Counterweighted and shaped to make pouring coffee feel natural.
Included
1 x Bialetti Stainless Steel Stovetop (Venus Moka Pot)
Materials: Stainless Steel with Molded Resin Handle
Instructions
Fill cold water just below the safety valve in the bottom chamber (boiler) of the Venus.
Insert the funnel.
Spoon your coffee into the funnel until it's full. Do not tamp the coffee as water needs to easily pass through.
Screw the top of the Venus back together (tight) and place the Venus on your stove top (medium heat). Note: if using a flame ensure the flame is not larger then the base of the pot i.e. the flame should just touch the edges of the bottom chamber.
As the water comes to a boil, the water pressure will increase which will cause the water to move up through the coffee grounds, column, and into the top chamber (binder).
Once you hear a gurgling sound your Pot nearly is ready. Open the lid and check to see if mostly steam and air are exiting out of the nozzle. If so, Remove from heat, stir, pour, and enjoy. Note, the pot makes the equivalent of an espresso, so you may want to dilute with hot water, or milk to your taste.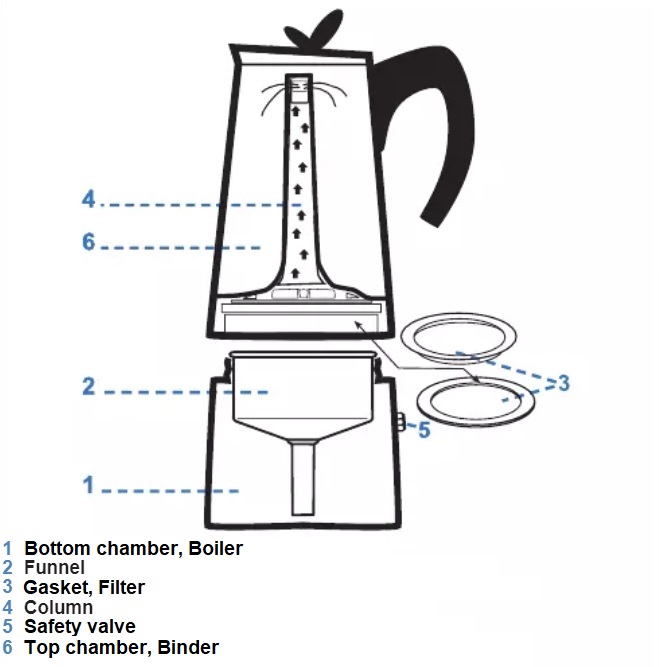 FAQs
What coffee beans should I use?
Bialetti is perfect for beans suited to espresso coffee – balanced, smooth, with nutty and creamy characteristics. At Quest, we'd recommend:
In Casa Organic Premium Blend – great balanced all rounder.
Dark Inc Organic Premium Blend – more intense, and works better with alternative milks.
Guatemala Huehuetenango SO – balanced, and super creamy.
Compare other beans: Roasted Coffee Bean Comparison
What grind setting should I use?
Use a medium to medium-fine grind. Coarser than you'd use for an espresso machine but finer than for a drip coffee maker. Or select stovetop grind during checkout.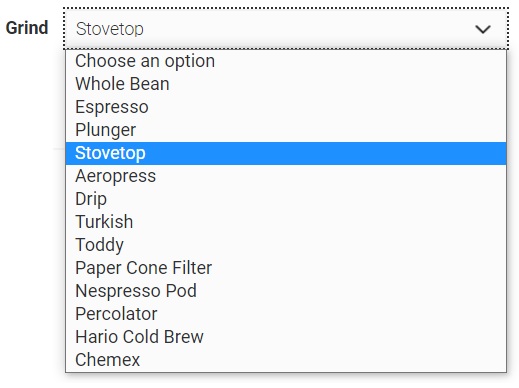 How often should I descale my Bialetti Stainless Steel Stovetop?
How often the coffee maker needs to be descaled depends on how often it is used and the hardness of the water. If hard water is used, it is recommended to descale once a month, if soft water is used once a quarter is sufficient.
What is the best way to descale my Bialetti Stainless Steel Stovetop?
To descale the coffee maker, it is recommended to use a liquid descaling agent which is labelled as suitable for coffee machines.