What happens to the Hessian (Burlap) Coffee Bags that transport our amazing beans from locations all over the world?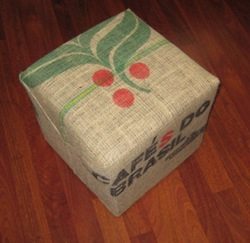 Well, we are big on doing our part for the environment and recycling where we can, so we on-sell these beautiful printed bags to our customers, with half of the proceeds supporting KIVA.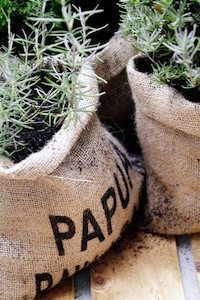 The bags not only come with a history, but some of them have beautiful stamped lettering from the region that they came from.
There are many crafty ways to re-use burlap coffee bags, giving them a new life. A couple of  ideas that come to mind are curtains, tote bags, planter pots, seat covers, cushion covers, aprons, pencil roll, and many more.
We have shared a few photos in this post to help inspire you and there are many more creative ideas on our Pinterest page so make sure you pop on over and follow our boards for lots of inspiration.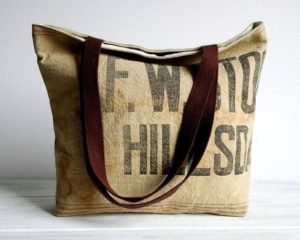 You want to get started on a project right away?
Click here to see the different bags we have on offer online for you, or you are more than welcome to come into our James Street Cafe in Burleigh Heads (Gold Coast) and pick some from the stacks we have available. We are open daily from 6 am to 4pm and we do a pretty great coffee too.
Half of the proceeds of these bags are used to help KIVA. You can read all about the great work Kiva does in this blogpost.
And if you decide to make something, make sure to let us know. We love to see what people do with them and share ideas around.