Have you ever had one of moments when you just feel like something a little different for your daily caffeine fix? You look up on the board a little perplexed with the variety, and, with a line up behind you, decide to just opt for  your usual. Our baristas have a wealth of knowledge and are always happy to help you decide, so feel free to ask at any time.  We also thought we would help out and break it down for you.
FLAT WHITE:
The flat white originated in Australia so you will be hard pressed finding the exact replica anywhere else in the world. Sure you will find variations that will give you some enjoyment on your travels but the saying "same same but different" will spring to mind. In America, for example, their version of the American latte is nearly exactly the same as our flat white.
At the end of the day, a flat white is textured milk and an espresso shot with a thin layer of foam to finish off.
The flat white will be strong in flavour, combined with that velvety smooth feeling we all know and love.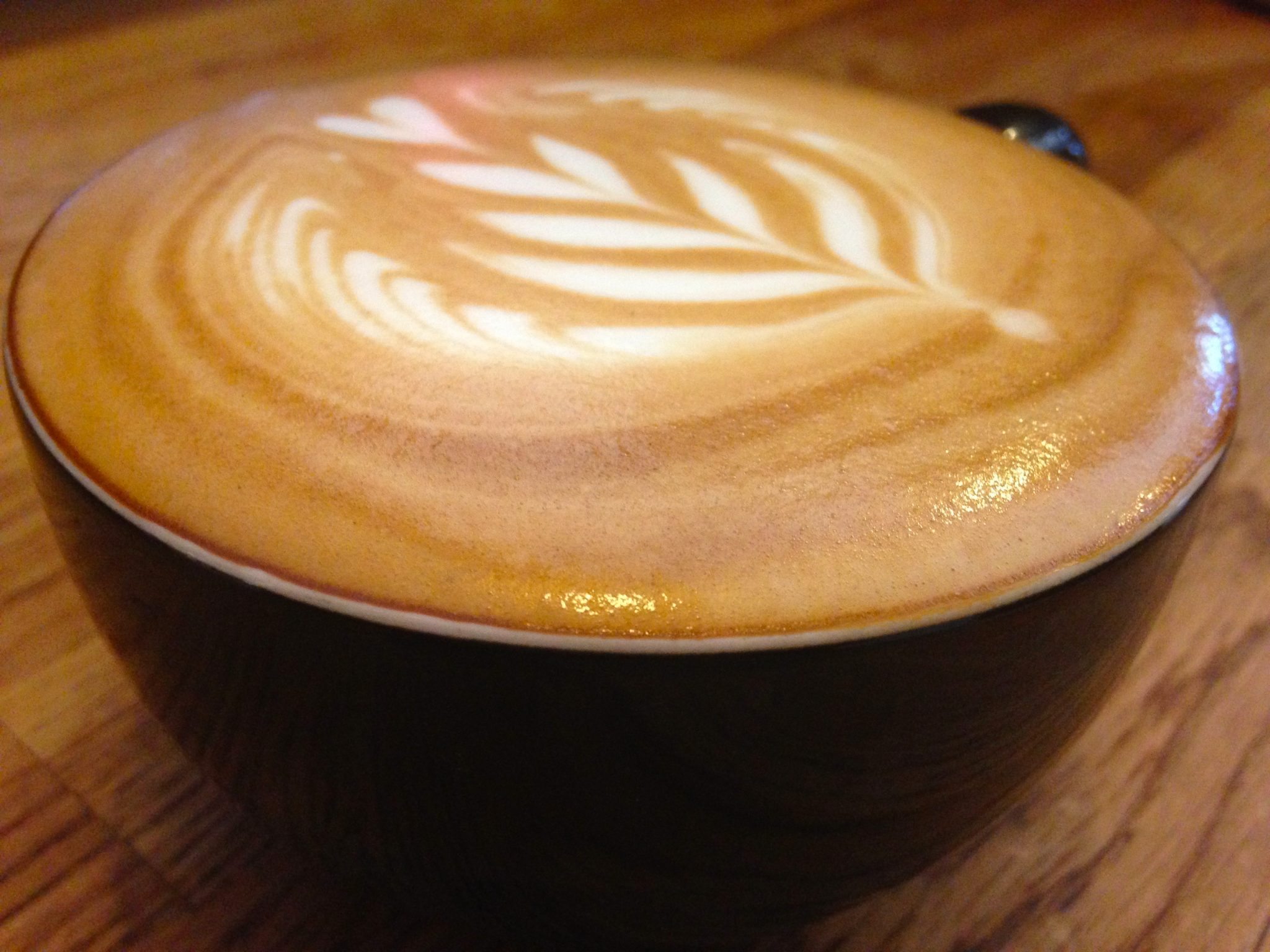 LATTE:
The key to a great latte is in the art of steaming/texturing the milk. Texturing milk plays a big role in creating the perfect latte. Firstly, the most obvious, is to bring the milk to the desired temperature for drinking but it also creates micro foam. You can't make micro foam without air being added into the milk – that all too familiar "hissing sound" you hear in the café is the sound of micro foam…that is when perfection is being made.
What is in a latte? Espresso shot, steamed milk and approximately 1cm of micro foam on top.
For those of you who wonder what the difference is between the flat white and the latte…it is quite simply the 1cm layer of foam.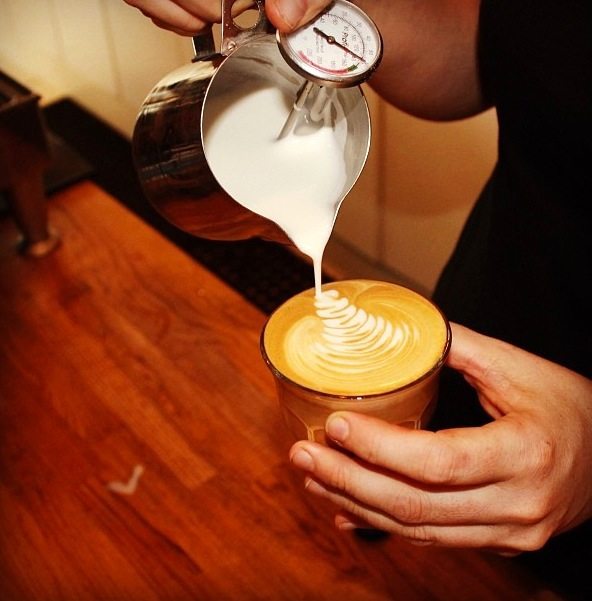 CAPPUCCINO:
The cappuccino is a traditional Italian drink and some would say that it is defined by its froth. The cappuccino is typically a stronger beverage.
It has three parts and is generally made with 1/3 espresso, 1/3 textured milk, 1/3 froth, then finished off with chocolate dusting powder. What makes the cappuccino special is the equal quantities of each component.
What you will most likely notice while consuming the cappuccino is that the foam is nice and stiff to begin with and finishes with a rich milky coffee underneath.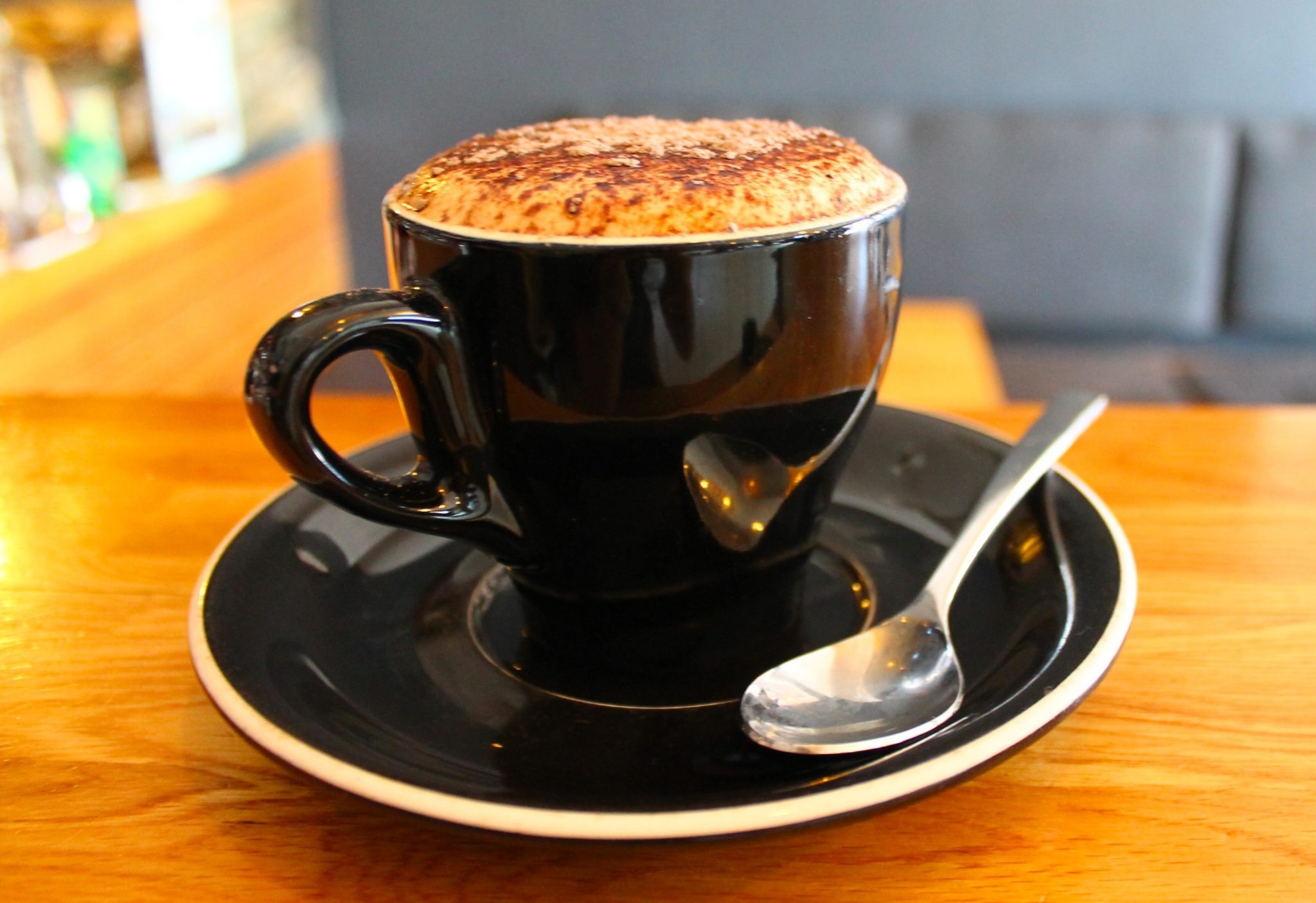 MOCHA:
This one doesn't take much to explain…a mocha is just a cappuccino with chocolate. We know what you chocoholics are thinking…YUM!
LONG BLACK:
Pouring a double shot of espresso over hot water makes the popular long black. It is similar to the Americano except that the long black retains the crema (the glassy layer on the top of the drink) and has less volume, which gives it a stronger flavour.
The barista's job is important, as they need to monitor the shot speed so that they can produce the best possible extraction. Allowing your long black to rest, as it cools from slightly boiling to a drinkable temperature, is the best way to enjoy a great tasting long black.
The great thing about a long black is that you are able to taste the undertones, flavours and sweetness of the coffee.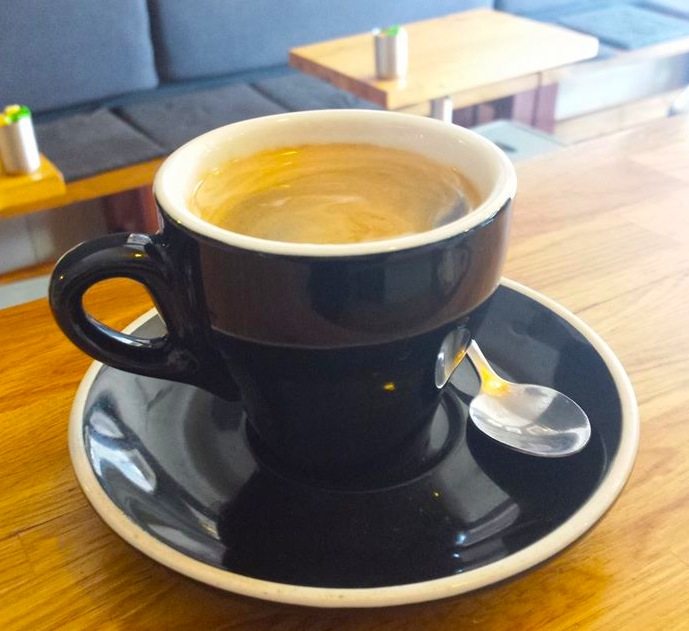 ESPRESSO:
Many people have the misconception that an espresso is a dark and bitter to burnt-flavoured coffee. Let's clear that misconception up for you. Espresso often forms a bold, not bitter, flavour. It is quick to make, doesn't interfere with flavour and is often referred to as the drink of coffee connoisseurs.
The big difference is that you get the same caffeine hit you would get in any other of the espresso-based drinks, minus the larger volume of liquid. It is therefore, quick, easy and convenient and packed full of flavour.
An espresso is meant to be intense and the art of the good barista is to create a balanced flavour. There are many factors involved in making a good espresso; the grind size, temperature, freshness of the beans and the length of the shot. A little more complex than it looks, right?
Drinking espresso is the best way to experience the true flavour of the bean; mild/medium/strong, chocolate or fruity, and all those special undertones.
It is best consumed straight away, before the gassy layer dissipates and the liquid cools down. A cooled espresso will taste completely different to a fresh one.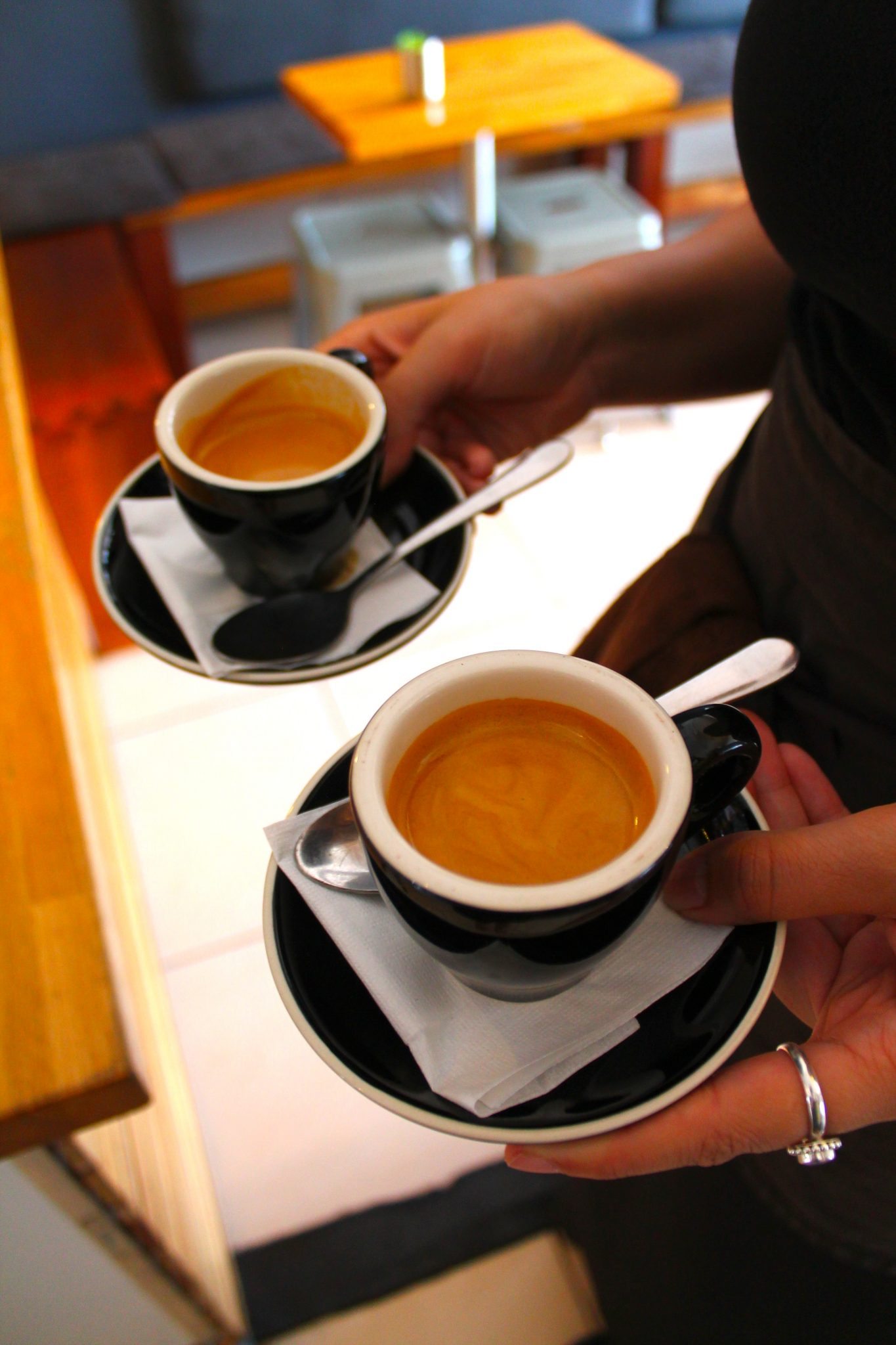 MACCHIATO:
Macchiato means 'marked' or 'stained'. In short, it is an espresso with a 'stain' of hot milk (a dash of foam). The quantity of milk is just enough to stain the colour of the black coffee.
The macchiato takes the edge off an espresso, adding a different aspect to the drink. It is worth a try for the coffee enthusiast who enjoys a strong, full bodied flavour but is not a big fan of the straight espresso.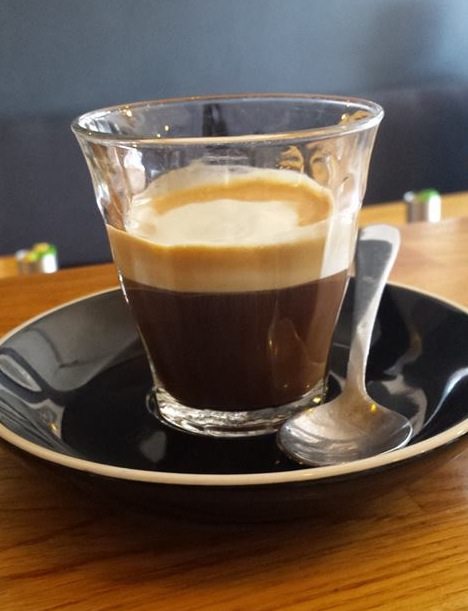 AFFOGATO:
Last but not least, the delicious Affogato. This is really similar to the macchiato. It's a coffee-based dessert for those times when you feel like being a little naughty. It's quite simple really…a shot of hot espresso poured over a scoop of vanilla ice cream. Bon appetite!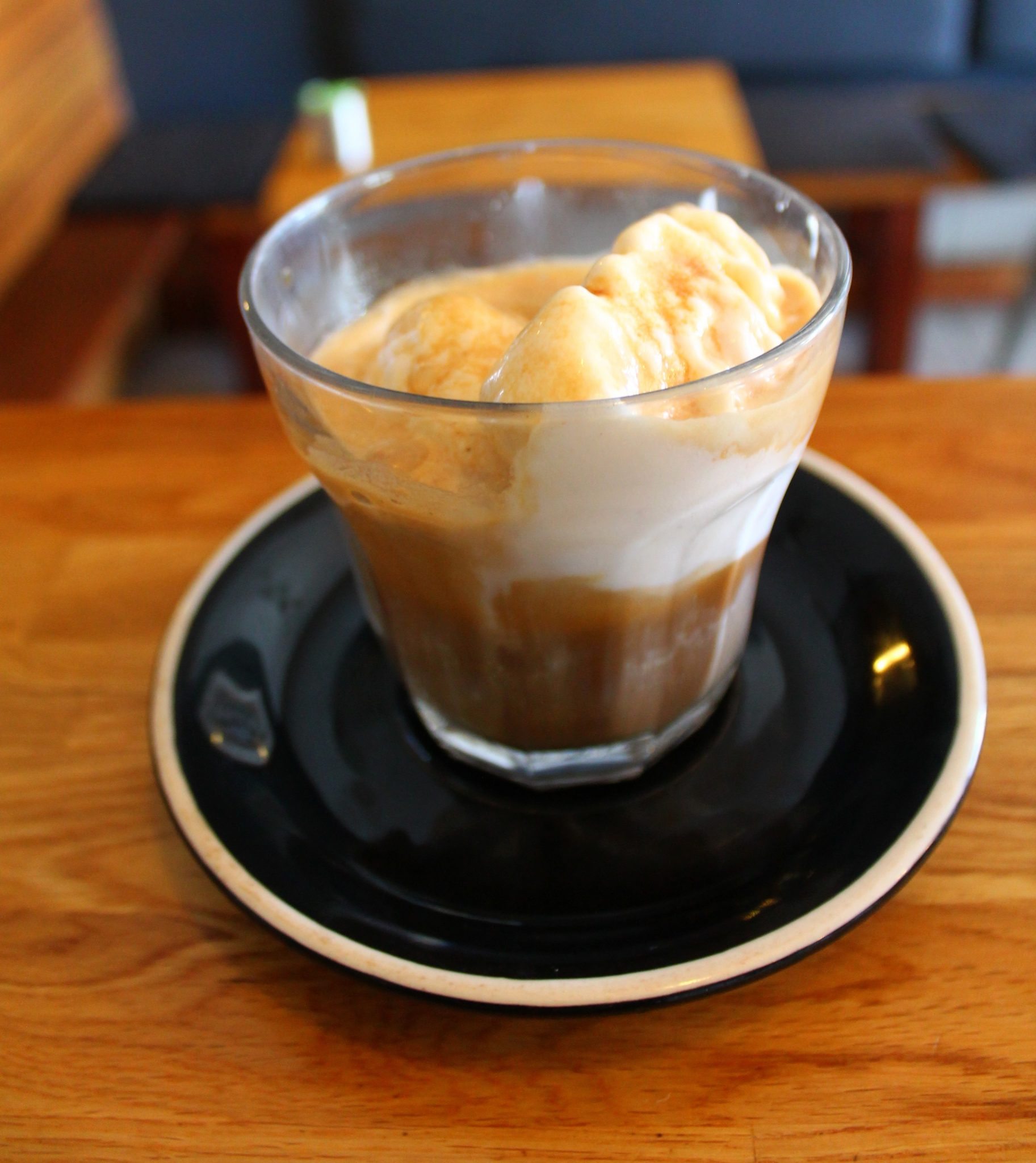 Our happy baristas here at Quest Coffee Roasters are all about customer service and providing you with the best quality coffee. We have grown to understand that each individual has different likes and dislikes, and the perfect coffee isn't just as easy as 'black and white'. We have had so many different requests over the years that it would take a lot to surprise us.
So next time you are visiting us at our James Street, Burleigh Heads café, be sure to ask for your coffee how you like it best and we will be happy to accommodate. Don't forget that we always have 4 different types of coffee to offer you until 3pm everyday.