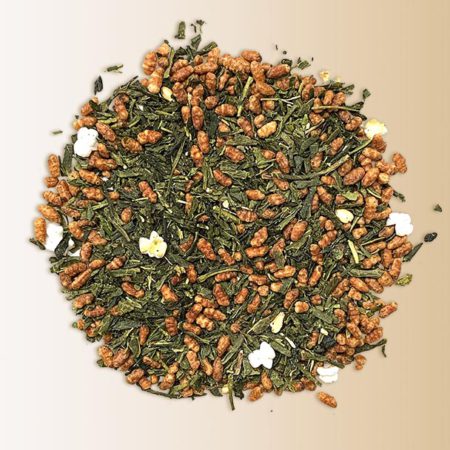 Japanese Genmaicha – Organic Loose Leaf
$9.90 – $14.90
$9.90 – $14.90
This Japanese Genmaicha is a premium green sencha tea blended with rice kernels. This mellow and warm tea brings out sweet and grassy flavours with nutty popcorn finishes. Japanese Genmaicha is a soul warming tea with many health benefits due to its high level of antioxidants.
Loose leaf 100% organic tea.
| | |
| --- | --- |
| How is it made? | Made from certified organic green tea and roasted brown rice (+/- 2% popped brown rice) |
| Preparation | 1-2 tsp in 250mL in 75-80ºC water and steep gently until the brew turns a golden hue. |
| Tasting Notes | Fresh grass and toasted nuts, with a hint of sweetness. Strong popcorn aroma. |
| Health Benefits | Japanese Genmaicha is loaded with antioxidants such as carotenoids and ascorbic acid. It can assist in draining toxins, boosting your immune system, lowering your blood pressure, and preventing some cancers. |
| Caffeine | Yes |
Only logged in customers who have purchased this product may leave a review.