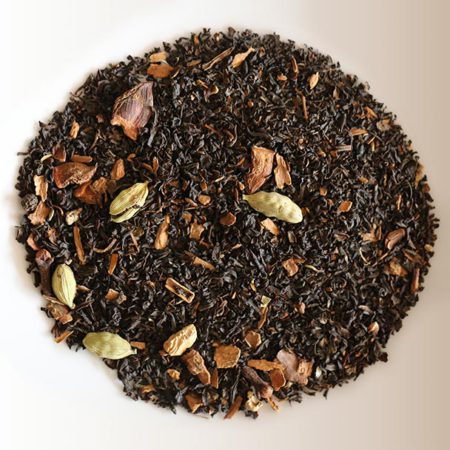 Spicy Masala Chai Tea – Loose Leaf Organic
$7.90 – $10.40
$7.90 – $10.40
Spicy Masala Chai Tea originates from South Asia. This is a soul warming tea that has become popular across the world, with many variations for preparations, and uses in desserts and cooking.
Loose leaf 100% organic tea.
| | |
| --- | --- |
| How is it made? | Hand made from a blend of organic black tea, cinnamon, cardamom, cloves, ginger, star anise, and black peppercorns. |
| Preparation | Add 2 heaped tsp to 250mL of milk (substitute for water to reduce creaminess). Simmer on a low heat for 5 mins, but don't let it boil. Sweeten with honey to taste. |
| Tasting Notes | Strong in flavour with aromatic herbs, malty bass notes, honey, citrus and smooth spices. |
| Health Benefits | Spicy Masala Chai Tea may help with inflammation, and boosts the immune system. May also aid with digestion. |
| Caffeine | Yes |
Only logged in customers who have purchased this product may leave a review.