Queensland Health introduced a COVID-19 mask mandate on 29 March 2021 for all people (with some exceptions) entering the indoor premises of Queensland businesses. The mask mandate lasted until 14 April 2021 (over 2 weeks) and many Queensland businesses found themselves enforcing the COVID-19 mask mandate on less than 24hrs notice.
The government announcement was supported by very little government outreach and social media reaffirming the existence and need of the mask mandate. As one example, after the announcement of the mask requirement up until 14 April on Queensland Health facebook page, there were no further posts reminding people about the importance of the requirement and its continued existence. Queensland Health posted memes about Easter, but nothing about masks and supporting businesses doing the right thing. So instead it fell on Queensland businesses to enforce and explain the need with customers. At Quest Coffee Roasters we believe that following just law is essential to an equitable and sustainable society, and Quest Burleigh Cafe enforced the mask mandate. Quest Burleigh Cafe introduced signage, policies, and gave out free masks on the first day of the requirement to ensure customers weren't starting their day without their morning coffees 🙂 We also posted Google updates, Instagram stories, and Instagram posts (30 March and 1 April) to ensure customers weren't caught out.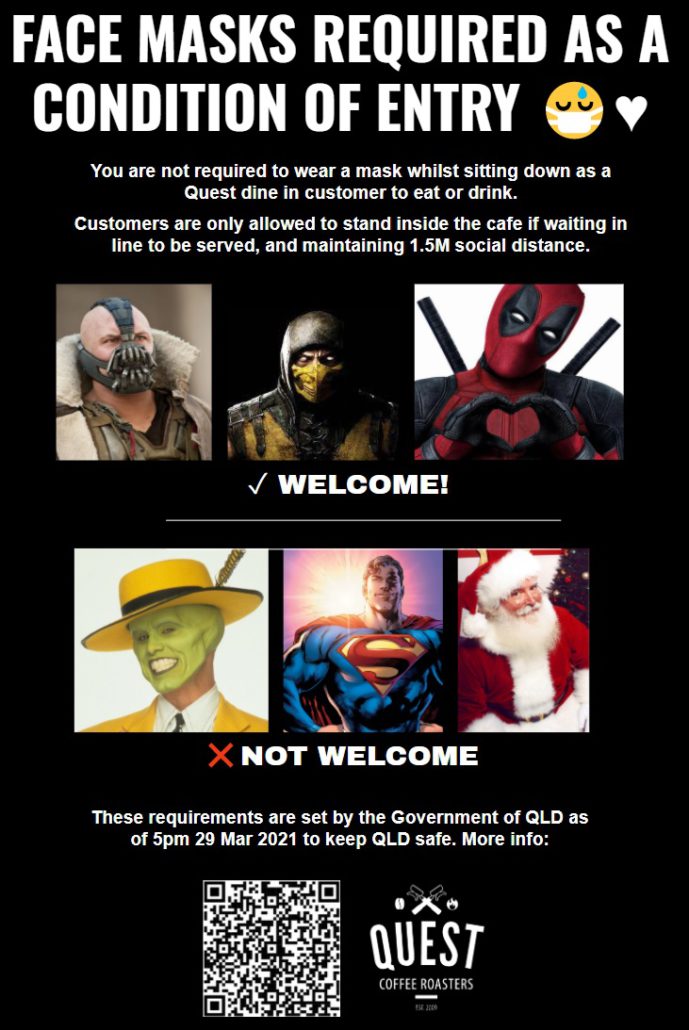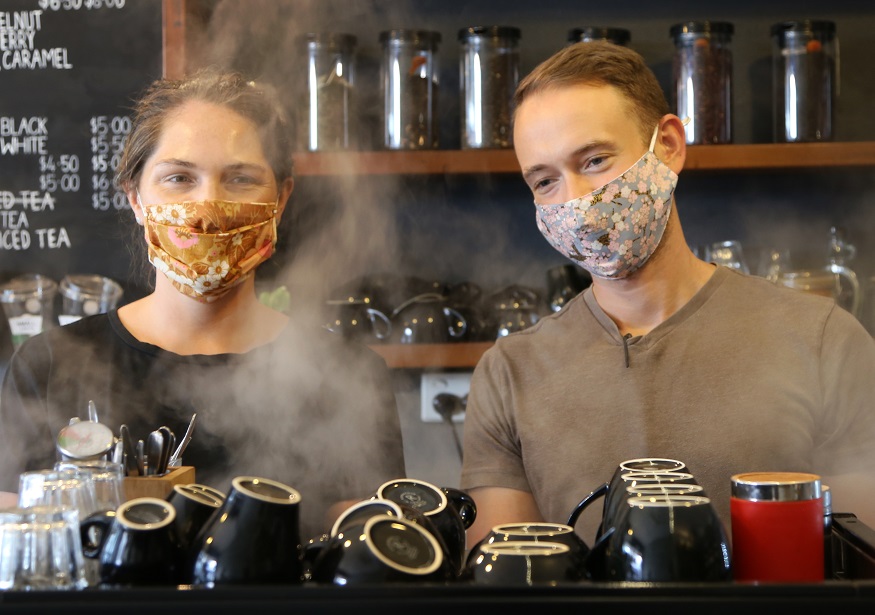 The majority of customers supported the Quest team, and either brought their own masks or purchased a mask at the cafe. However, not all customers felt this way, and many either didn't support the government mask mandate, or didn't believe it existed. This lasted throughout the mandate period. Our team documented customer reactions so that our barista team members didn't feel they were being singled out by customers, and also as an important data point for government to consider when introducing such requirements again in the future.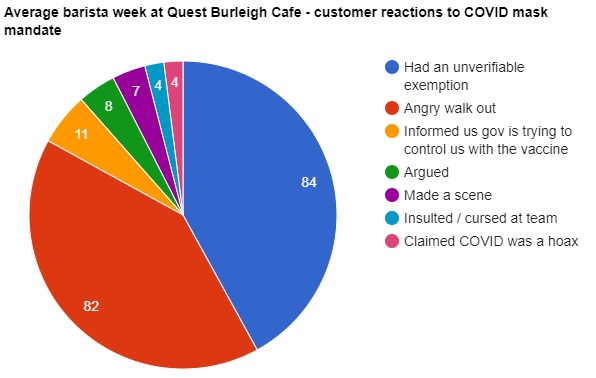 Queensland has been very successful at controlling COVID-19 and creating a prosperous business environment in a world affected by a serious pandemic. We believe the mask mandate was necessary, and its prompt introduction was likely an important factor in ensuring the more contagious strain of COVID-19 didn't get out of control in the Queensland community. We are thankful that we have many supportive customers and were grateful for Quest Burleigh Cafe's enforcement of state laws and making our baristas feel appreciated. However, our ask for the future and a learning for all government entities would be that when a specific (and potentially uncomfortable) requirement is introduced for businesses, that the government invests more time and energy into enforcement and regular media education to ensure businesses that must enforce the requirement (Quest Burleigh Cafe was one of the few businesses actively enforcing the mask mandate) aren't negatively impacted.