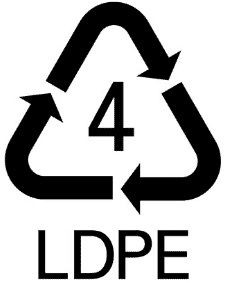 Did you know that plastic bags, including LDPE (Low Density Polyethylene) plastic bags, cannot be recycled in the yellow-lid kerbside recycling bin? They fall under the category of soft plastics, which require special recycling methods. Unfortunately, there is currently a pause in soft plastic recycling in Queensland while the State Government and the industry work towards finding a long-term solution to replace the REDcycle scheme.
LDPE is the standard material used for most plastic bags, while HDPE (High Density Polyethylene) is commonly found in household plastic containers.
The number inside the arrow triangle symbol found on plastic products simply indicates the type of material used, not whether it can be recycled.
The scrunch test is a helpful way to determine if a plastic container is recyclable. If it returns to its original shape after being scrunched, it can generally be recycled. If it remains scrunched up, it should be placed in the general waste bin.
Coffee Bags that contain no interior foil lining and are LDPE may be accepted by your local council for recycling. Find your nearest soft plastics recycling bin at recyclingnearyou.com.au.
Consider reusing your coffee bags whenever possible. You can bring your used bags back to a Quest store for refill for coffee beans or ground coffee and get a BYOB discount. Alternatively, you can explore local options like Seed the Ground (https://www.seedtheground.com.au/), which has community composting hubs in Burleigh Heads and Miami, QLD. They use old coffee bags to create compost, and they might be interested in taking your bags.
Remember, every small step towards sustainability counts. Let's nurture a greener future together!